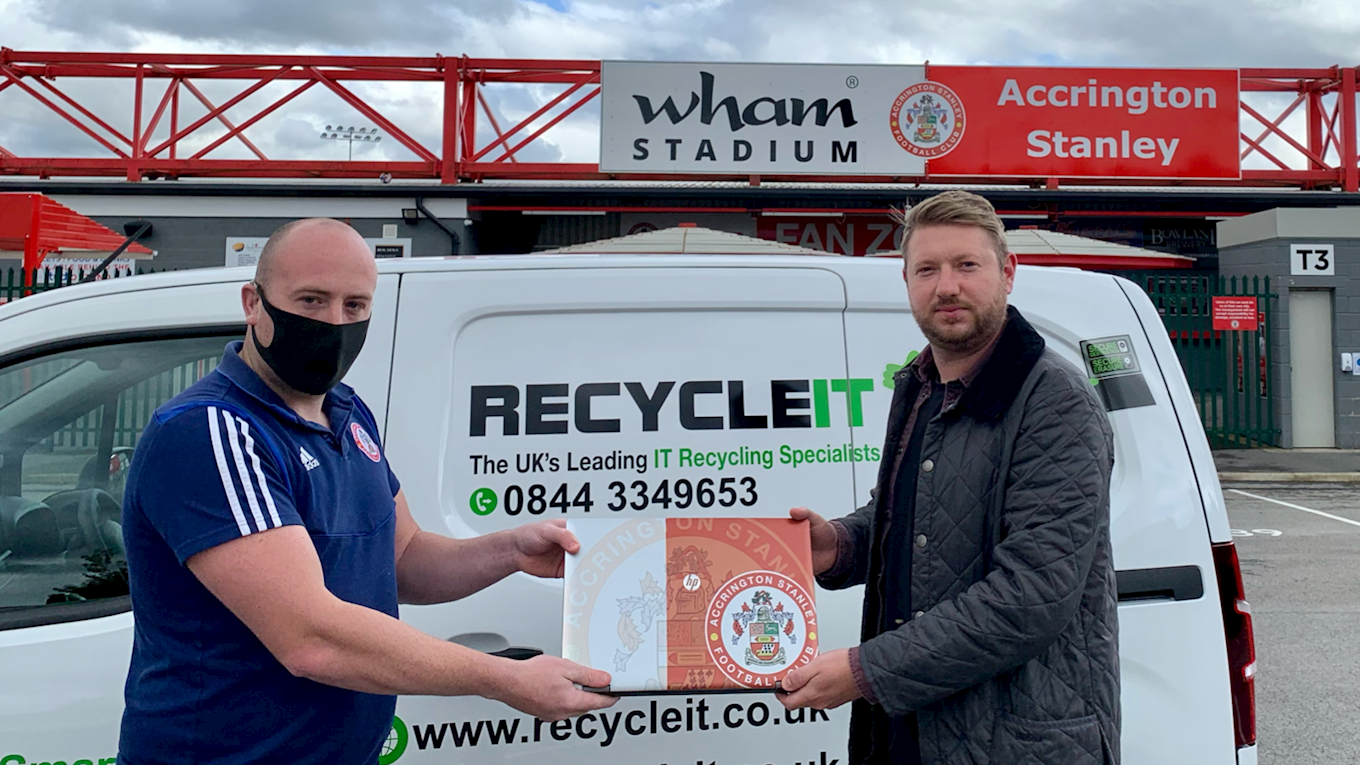 We love supporting our local communities. It's part of our ethos; to create lasting and meaningful relationships with our local area based on sustainability and kindness.
Providing Laptops & Learning Support To Stanley's Players
That's why we're proud to announce that we have been able to provide local football club Accrington Stanley with £3,000 worth of IT equipment to help support the learning of their up and coming players.
Our goal is to help Lancashire with all of it's IT disposal and recycling needs with a full range of recycling and redeployment services to cover the whole lifecycle.
RecycleIT Couldn't be Prouder to Work With Accrington Stanley
Business and Development Manager here at Recycle IT, Carl Greenwood, said:
"It's great that we can help out the club here at RecycleIT during these uncertain times and can donate the laptops to Accrington Stanley."

Carl went on to say; "Everyone in and around the area knows the important role the club plays in bringing the community closer together and the community of Accrington always look to help each other with a real sense of togetherness. We are just glad to be able to be a part of that in any way we can and help out the club and its young players.

"We hope these laptops will be able to keep the young players and staff engaged over the coming seasons, and can help the young scholars to achieve their dreams of progressing into the first team and beyond."
Supporting local businesses is incredibly essential, especially in troubled times like the ones we are facing at present, so we're just happy to have been able to help out where we could.
What Accrington Stanley Had To Say
Stanley's Commercial Manager, Daniel Bowerbank also commented on the donation:
"It's great to see one of our sponsors go above and beyond, especially in these challenging times for all businesses, in providing over £3,000 worth of laptops to our scholars and staff.

"We would like to thank Carl, Rob and all the team at RecycleIT for their kind donation to our academy and for helping our scholars with their online learning programmes."

These laptops will go to the future stars and amazing staff over at Accrington Stanley and will help improve business processes as well as foster more efficient learning and development for the youngsters on the team.

The club's Youth Development Phase Lead Coach, David Fitzgerald said: "Thanks again to RecycleIT, not only for being the Under-18s principal kit sponsors, but also for providing laptops for our scholars to use.

"This will benefit the players to access the analysis system we now have in place and it also supports the players with their home learning programmes as part of the LFE education programme."
How Can I Support Accrington Stanley?
To find out more about Accrington Stanley FC, CLICK HERE!
Reuse Old IT Equipment with RecycleIT
If you or your business is on the lookout for ethical and sustainable solutions to computer recycling and reusing old IT equipment, then give us a call on 0844 334 9653 or send us a message!