The RecycleIT  proudly sponsored Burnley Football Club's Community Champion award and donated two Surface Pro tablets to inspirational fundraising duo Freddie and Hughie.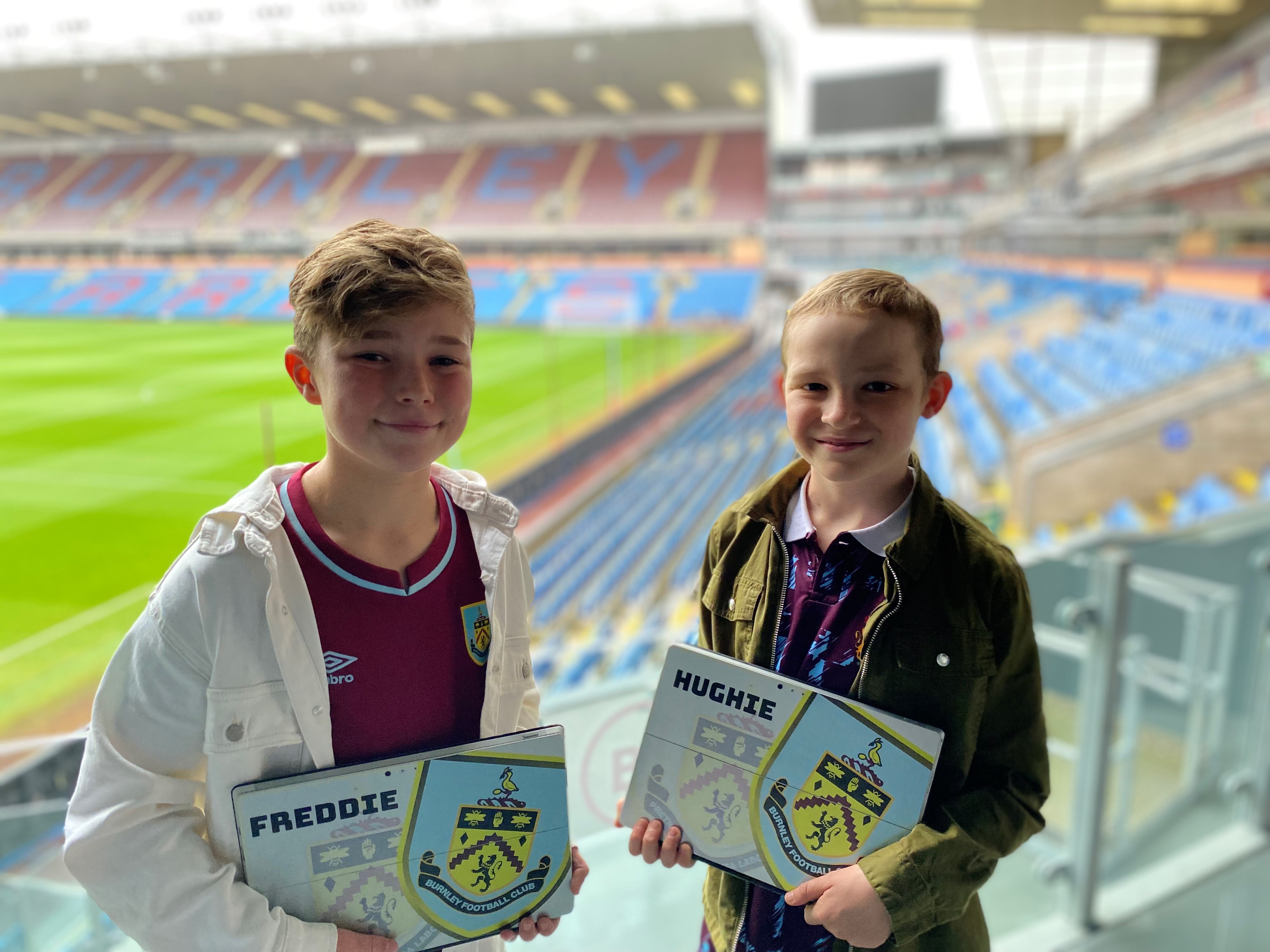 A Heart-Warming Story
England international player, James Tarkowski, presented leukaemia patient Hughie and his best friend Freddie with the Community Champion award at the 2021 Player of the year awards. 
The touching story of best friends Freddie and Hughie has captured the nation, as they raised a whopping £200,000 for Royal Manchester Children's Hospital Charity. 
Hughie was diagnosed with Acute Lymphoblastic Leukaemia which led to three years of treatment at RMCH. Following this, Hughie wanted to raise money for the charity that had helped him to show his appreciation. He had planned to do the Humphrey's Lantern Walk but was unwell on the day due to his debilitating illness, and couldn't take part, so his best friend Freddie did it instead – running 2km a day in the 50 days leading up to Christmas. 
Hughie's dad, Keiron, commented " We are all so proud of Hughie and Freddie and to win an award of this calibre is just amazing! As a family it's been a very tough year, but this is something really special and we are so pleased to be able to celebrate this fantastic news. The way Freddie stepped up when Hughie was diagnosed shows what a great friend he is and their friendship has grown even stronger through this whole process. The boys have got some more exciting fundraising plans for the future too, so watch this space!"
Supporting and Celebrating our Local Community
As a result of Freddie and Hughie raising so much money for RMCH and winning the Burnley Football Community Champion award, RecycleIT wanted to further support but also celebrate the pair by donating two personalised Surface Pro tablets.
Robert Doherty RECYLEIT Managing Director said "Its nothing short of amazing what these 2 boys have done for each other and patients at the Children's Hospital, we are privileged to have such great lads from Burnley going above and beyond for others and is something that is definitely needed in the heart of the Pandemic. It is our pleasure to be able to give back to the boys and we would like to thank them for all their hard work and dedication to helping others."
On a broader level, RecycleIT is consistently working to expand our growing national Sustainability Project, which will see thousands of trees planted around our partner sites over the next ten years, as we also make donations into the community at a local and national level. 
The Surface Pro tablets were presented to Freddie and Hughie at an exclusive presentation held at Turf Moor, alongside Local Brands Partnership Executive, Paul Walsh. 
Get Involved in the RecycleIT Sustainability Project
If you're looking to discard your electronic device, then look no further than RecycleIT. Contact a member of our friendly team on 0844 334 9653 or alternatively, complete our online form today!